CCTV & Intruder Alarm Systems
Ashmore Park I.T. supply and install Video Surveillance Systems - VSS ( CCTV)  and Digital Vide0 Recorder ( DVR ) / Networked Video Recorder ( NVR ) Equipment and work with our sister companies System Addictz Limited and Adsvision Limited who can supply and install Fire and Intruder Alarm Systems, 24 Hour Intruder Alarm Activation Monitoring, Gate Automation and Door Entry Systems for both Home and Business requirements.
All our CCTV and DVR Systems can be configured for remote viewing via any iPhone or Android Smart Phone or Tablet device.
Many of our Intruder Alarm and Fire Systems have built-in home automation facilities should you wish to add them in the future, from switching on your lights to dialling into your system and accessing an internal intercom system. Technology eh?
For further information and advice, please give us a call on 01902 304804 
VSS - ( CCTV ) Installation Systems
Ashmore Park I.T. Limited and System Addictz Limited install domestic, commercial and industrial Video Surveillance Systems - VSS ( CCTV ).
We offer remote viewing from smart phones for our domestic installations but we can also offer remote monitoring via a Central Monitoring Station.
Dependant upon your VSS - ( CCTV ) System this gives you complete offsite detection with remote control of ptz cameras (pan, tilt, zoom) so you can identify areas of your business that may have become vulnerable.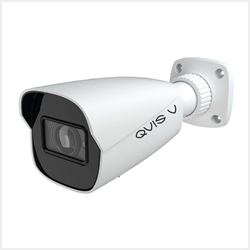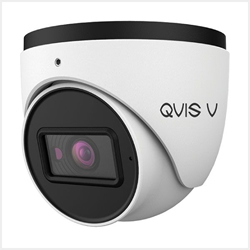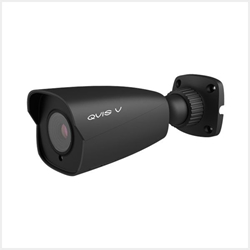 There is a wide range of Viper 2MP, 4MP, 5MP and 4K Full-Colour HD Analogue IR Fixed Lens Turret Cameras as well as 2MP, 6MP, 8MP/4K Viper IP Networked Fixed Lens Turret Cameras.
See our VSS - ( CCTV ) Kits below which will give you an idea of combination systems to go for based on your area of coverage within your property.
The Storage on the VSS ( CCTV ) Kits can be increased at the time of purchase based on FPS (frames per second) and the length of time before the hard disk drive is overwritten.
The default storage hard disk drive sizes are 1TB and 2TB but you can upgrade to either 4TB, 6TB, 8TB, 10TB or 12TB Storage devices.
Remember, the bigger the hard drive the longer the footage and higher the FPS.
Please do not hesitate to ask us for advice at any time so you can get the correct system for your requirements.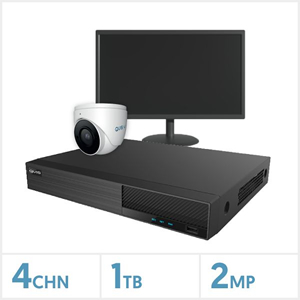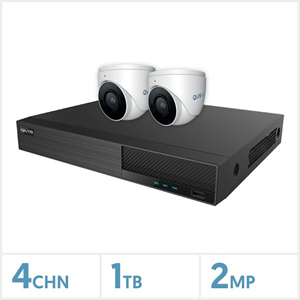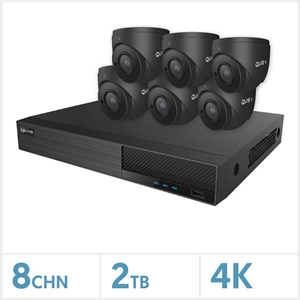 Example - 3 Bedroom Semi
Here we have a typical domestic VSS - ( CCTV ) installation - the two front cameras are protecting and covering the left hand side and the right hand side of the drive and neighbours either side.
There is also a side camera protecting and covering the flat room to the side of the property. We haven't shown it in this example but there is one more VSS - ( CCTV ) Camera at the rear of the property including an infra-red and motion sensor floodlight. The same floodlight is also installed at the front of the property too to alert anybody approaching the property that they have been detected. In addition to this, the VSS - ( CCTV ) Cameras will have a better view of the approaching person, people or vehicle. At night, even though the cameras have night vision, the help of an external floodlight will give a better and clearer image.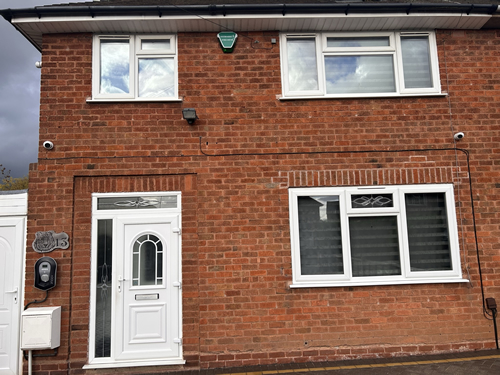 Below you will also see that the property has installed steel bollards that can be raised and padlocked at night to deter car theft.
In addition, there is an external infra-red and motion sensor at the end of the drive which is connected to the internal alarm system.
Anybody approaching the house in the day or night will activate an internal sounder, informing anybody that is at home that a car has pulled onto the drive or someone has approached the house.
An alert will also be activated on the alarm system's APP via a mobile phone or smart tablet device.
If the owner is not at home at the time, a quick loading of the VSS - ( CCTV ) APP on their phone will allow live viewable monitoring.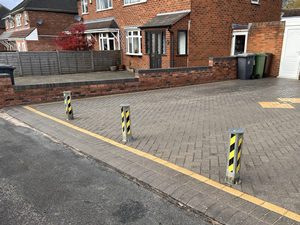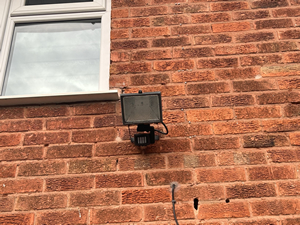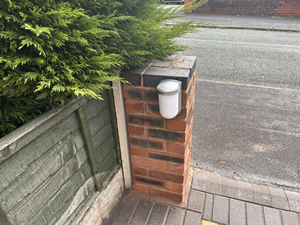 VSS versus CCTV Explained
CCTV ( Closed Circuit Television ) has predominately been at the forefront of security in the monitoring of home and business properties via cameras linked to an internal monitor and recorded onto a video tape recorder. In days past, these systems have been analogue based and VHS tape recorded. Nowadays, many CCTV Systems have entered the digital world and are recorded onto an internal hard disk drive and are wired by computer networking cable.
The NEW terminology for CCTV is now Video Surveillance Systems or commonly referred to as VSS which is a network of CCTV Cameras, monitors, display units, and recorders. Cameras can be analog or digital, with various features, such as resolution, frame rate, colour type, and more. Whether inside or outside the building, it operates 24/7, designed only for recording movement when necessary.
Surveillance cameras may be in plain sight or hidden from view. The camera's purpose is to deter improper behaviour, and the video footage can also serve as evidence for later review by security staff or law enforcement. Depending on your needs, many different video surveillance systems are available, such as live monitoring, remote access via an IP system, and footage is recorded onto either a DVR ( Digital Video Recorder ) or an NVR (Network Video Recorder) - an NVR will record the footage to a Cloud Based facility over the internet.
Video Surveillance Systems - VSS covers an umbrella of security devices, CCTV just being one of them.
Fire & Intruder Alarm Systems
System Addictz Limited are professional SSAIB Certified Intruder Alarm System, Video Surveillance Systems - VSS ( CCTV ) and Access Control specialists with the skills to design, install, commission and maintain alarm system detection to meet with BS 5839 standards.
By having an Intruder Alarm system reduces the risk of becoming a victim of crime. You can control your alarm system panel via your mobile phone, smart tablet device or PC, being alerted to any intruders, switching home or business zones on and off and our systems do allow home automation devices to be added for switching on your heating or lights at the touch of a button. Using the standard alarm system key fobs you can set and unset your alarm on exit or entry and part set when retiring for the evening.
Intruder Alarm Systems
From small domestic systems to large commercial integrated systems , we are able to supply our customers with exactly what they require.
We use a very user friendly range of panels that are so simple to use.
All of our systems are to the latest EU Standards (grade2/3)
Wired, wireless and hybrid systems are all available and installed to the latest standards and customer requirements.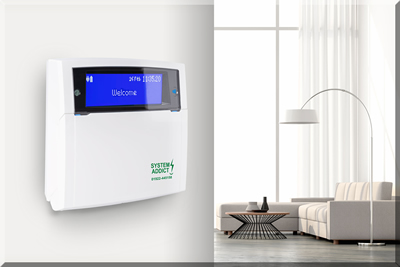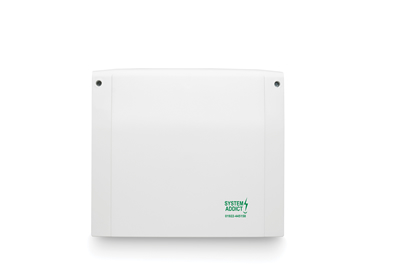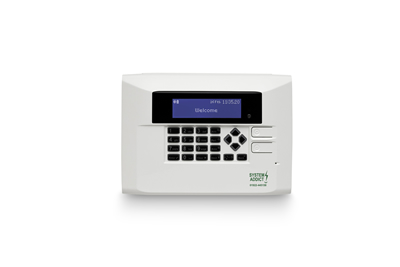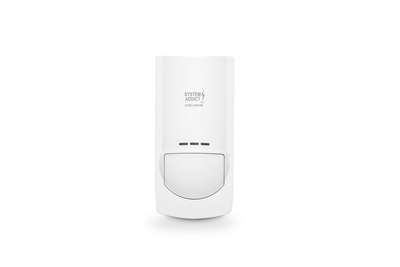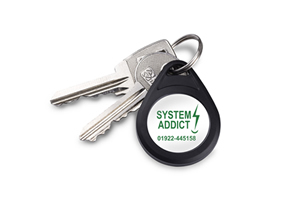 This a typical entry level system:
Control Panel
Keypad - Set/Unset Alarm
Detectors - Pet friendly Ones too!
External Sounder with Night Light
Key Fobs - Set/Unset Alarm
Door Contacts etc
Wired and Wireless Installations
Fire Alarm Systems
System Addictz Limited offer fire alarm systems to large commercial  and industrial integrated establishments from schools, churches and engineering companies to motor vehicle forecourts, we are able to supply our customers with exactly what they require for al insurance purposes.
We offer a high standard of Fike Fire Alarm Panels and Fire accessories to protect your home such as smoke detectors, heat detectors and fire extinguishers.
Systems can be either wired or wireless or a combination of both. We can also supply and fit Emergency Lighting and Fire Door Access Control equipment.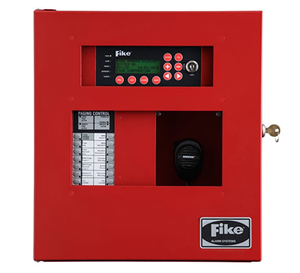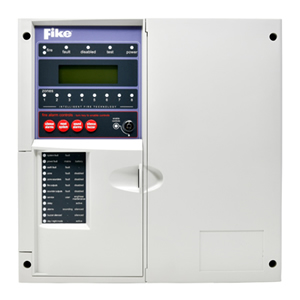 The Rafiki Twinflex Pro 2 zone fire alarm panel uses the intelligent two wire cabling system.
This allows the sounders to be run from the same pair of wires as detectors and call points.
The Twinflex Pro panel can operate up to 32 devices per zone and has a clear LCD display for easy to read system statuses.
If you require a FREE No Obligation Quotation then please give us a call on 01902304804 to book an appointment or email us here.